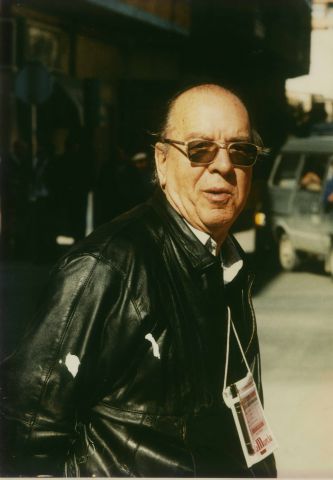 The Vuelta Ciclista a la Región de Murcia was born on 1981, when the Comunidad Autónoma de Murcia did not officially exist.
The race was possible thanks to the efforts of Alfonso Guzmán, former Federación Murciana de Ciclismo president and sports journalist on RNE, and Andrés Hernández Ros, president of the Consejo Regional de Murcia (seed of which became the Comunidad Autónoma de Murcia on June 9th, 1982).
Both agreed on the creation of a sports event to help the Autonomía get its own identity. For this reason, Alfonso Guzmán wanted this race to be notorious.
On that decade, spanish professional cycling was going through a long and deep crisis. There were only a few professional teams, and the best cyclists were on amateur teams, looking for a rebirth of the sport in our country. Tours like ours were the first steps to achieve this goal.
The key person in this fight, Pedro Delgado, won the first Vuelta a la Región de Murcia in 1981, the year before he became a professional rider. He did it alongside the other important entity of this era, Team Reynolds (current Movistar Team), the same structure with which he won the Tour of France in 1988.
In 1985, the Vuelta began its first steps on professionalism, and Pedro Delgado returned to win it. But he finished third. The winner was José Recio.
One year later, Miguel Induráin won the race. His first major victory as a professional cyclist. Our goals were reached year after year. The Vuelta Ciclista a la Región de Murcia received the best spanish cyclists. It was time for us to grow. It was time to turn into an international event.
In 1989, the race became a part of the UCI International Calendar. Since then, murcian´s roads have received the best teams and cyclists of the world.
Pedro Delgado, Miguel Induráin, Marco Pantani, Melchor Mauri, Cadel Evans, Jan Ulrich, Stefano Garzelli, Vinokourov, Lance Armstrong (before and after his first retirement), Bradley Wiggins, Denis Menchov, Alberto Contador, Nairo Quintana, Mark Cavendish, Philippe Gilbert, Chris Froome, Luis León Sánchez and Alejandro Valverde (who has the most final victories) are some of the names that have raced on the Vuelta Ciclista a la Región de Murcia.
These are the premises of our philosophy, as a club and as a race.