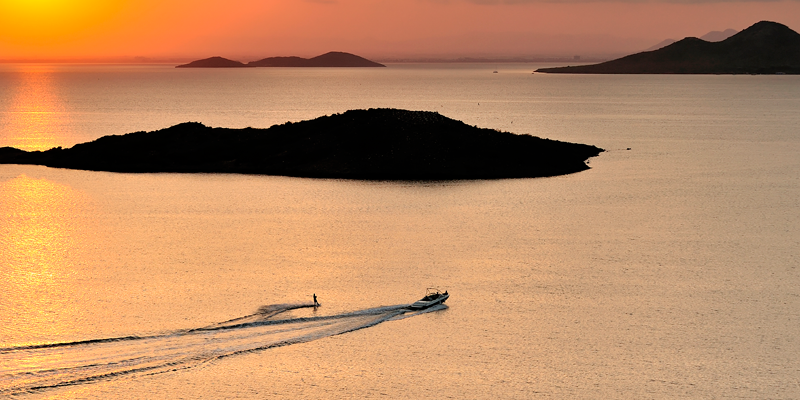 With an extension of 170 km2, Mar Menor is the largest European saltwater lake. Located in the southwest of Spain, it is divided from the
Mediterranean sea by La Manga, a little and thin portion of sand, and it is connected to it by a canals and "golas" system.
Mar Menor have a 73 km coast, full of transparent, shallow and warm waters, and is very rich in salt and iodine.
On its south end you will find a group of islands called La Perdiguera, Mayor Redonda, Ciervo and Sujeto. You can visit them on daily guided excursions during summer.
The first rests found on this zone are from the palaeolithic era, although the assessments which we have more information are from the Roman and Arabic era.
The Romans had a huge appreciation for the zone, where they set up a salting industry. There was also very important maritime traffic, so this was a fundamentally industrial zone. This traffic was possible because, in this era, Mar Manor was not too separated from the Mediterranean Sea. As centuries passed, the Albufera has been separating from the bigger sea, and it began to look like nowadays a thousand years ago.
Romans called this zone Belich and was mentioned as a refugee for heavy boats, as it was much deeper.
Medieval Chroniques talked about a huge and rich fauna and the beauty of the environment. The Isla del Ciervo keeps the name of the animal that used to live there: the deer. Pinatar was the habitat of wild pigs and sea birds, which still come to the sea to hibernate.
There is also information from the Carthago and Arabics eras, talking about the importance of the salt flats on the north end. A zone that remains Spain's most important wet zones. The traditional fishing techniques remain to our days.
All these civilizations left on our Mar Menor a huge legacy, and it is been considered a very important touristic centre for over a century.
Weather information
The climate is very benign, and it is always said that the zone lives on a constant spring. It has Spain's warmest winters and the softest summers of the Mediterranean Coast.
The average temperature during the year is 17oC, and during the summer are only 21oC. During the winter, temperatures do not drop under 10oC.
It also has a low level of precipitations, less than 300 l/m2 a year. So, it is a very dry zone, with 320 sunny days and 3.000 sunny hours a year.
This climate makes the Mar Menor area the perfect tourism destination all year.

Source : Ayuntamiento de San Javier