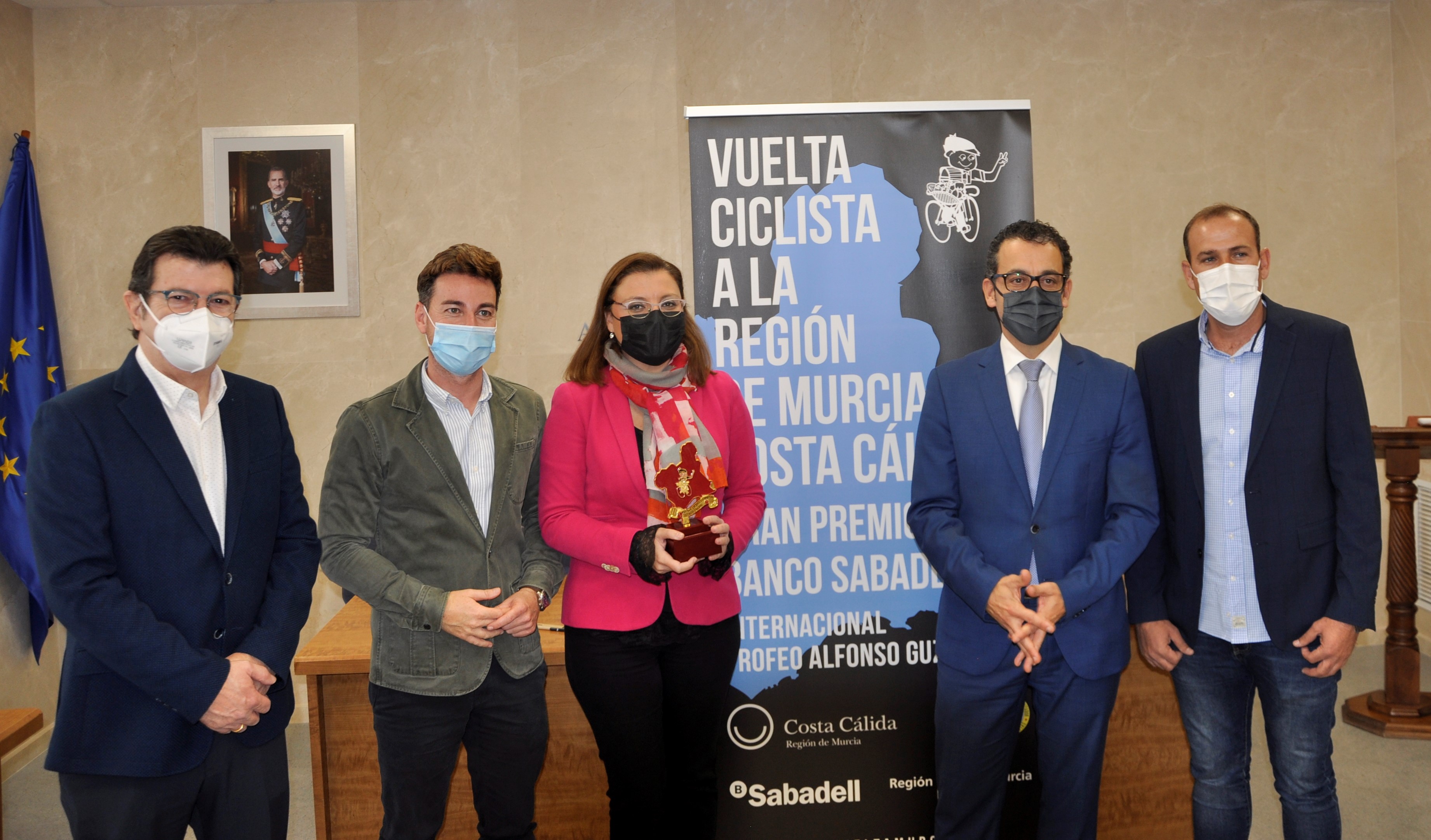 This Monday we held the presentation of the start of the Vuelta Ciclista a la Región de Murcia Costa Cálida ‐ Gran Premio Banco Sabadell 2022.

Fortuna has been the place selected as the starting point of the race. A town that has stood out in recent years for being one of the most important cycling spots in the Region of Murcia.
Since 2015, it has hosted the Villa de Fortuna Trophy, one of the most important events on the Elite-Sub23 calendar. They have also hosted other cadet, junior and cycle touring events.

The event was hosted by the mayor of Fortuna, Catalina Herrero, and was joined by the General Director of Sports of the Region of Murcia, Fran Sánchez, the director of Banco Sabadell's Murcia Centro zone, Carmelo Vera, and the director of the Vuelta, Paco Guzmán.

The Government of the Region of Murcia, represented by Fran Sánchez, has highlighted the
interest of the municipality in attracting sporting events and consolidating itself as the centre
of sport and cycling.

"Fortuna lives cycling in a very big and special way. And for us, the most important event that we have in the Region is called the Vuelta Ciclista a la Región de Murcia Costa Cálida ‐ Gran Premio Banco Sabadell 2022. And this award and this start had to be given to Fortuna".

Herrera has shown his enthusiasm for hosting a start in Fortuna 31 years later: "We wanted and we want Fortuna to be the centre of cycling in the Region of Murcia. And there is nothing better to start with than having the start of the Vuelta. It is a 100% cycling municipality, known for its tradition and for having numerous cycling events".

Paco Guzmán has made public the extension of our commitment with Eurosport to broadcast the race on the channel. In doing so, we made sure that our Region and its landscapes will be seen again around the world again.
This edition will mark the first stage of the Vuelta a Murcia in Fortuna since 1990. That stage ended in Murcia after 106 kilometres, and the victory was for Johnny Dauwe.

More recent is its last finish. It was in the second stage of the 2007 edition. That day, there was not a winner. The Region suffered that day strong winds and the race had to be neutralized.
There was a winner in 2005. Allan Davies beat the Italians in the fortune town Antonio Salomone and Crescenzo D'Amore with an explosive attack in the last meters.

We are working to close the final details of the route and participation, and we will announce
them over the next few weeks.