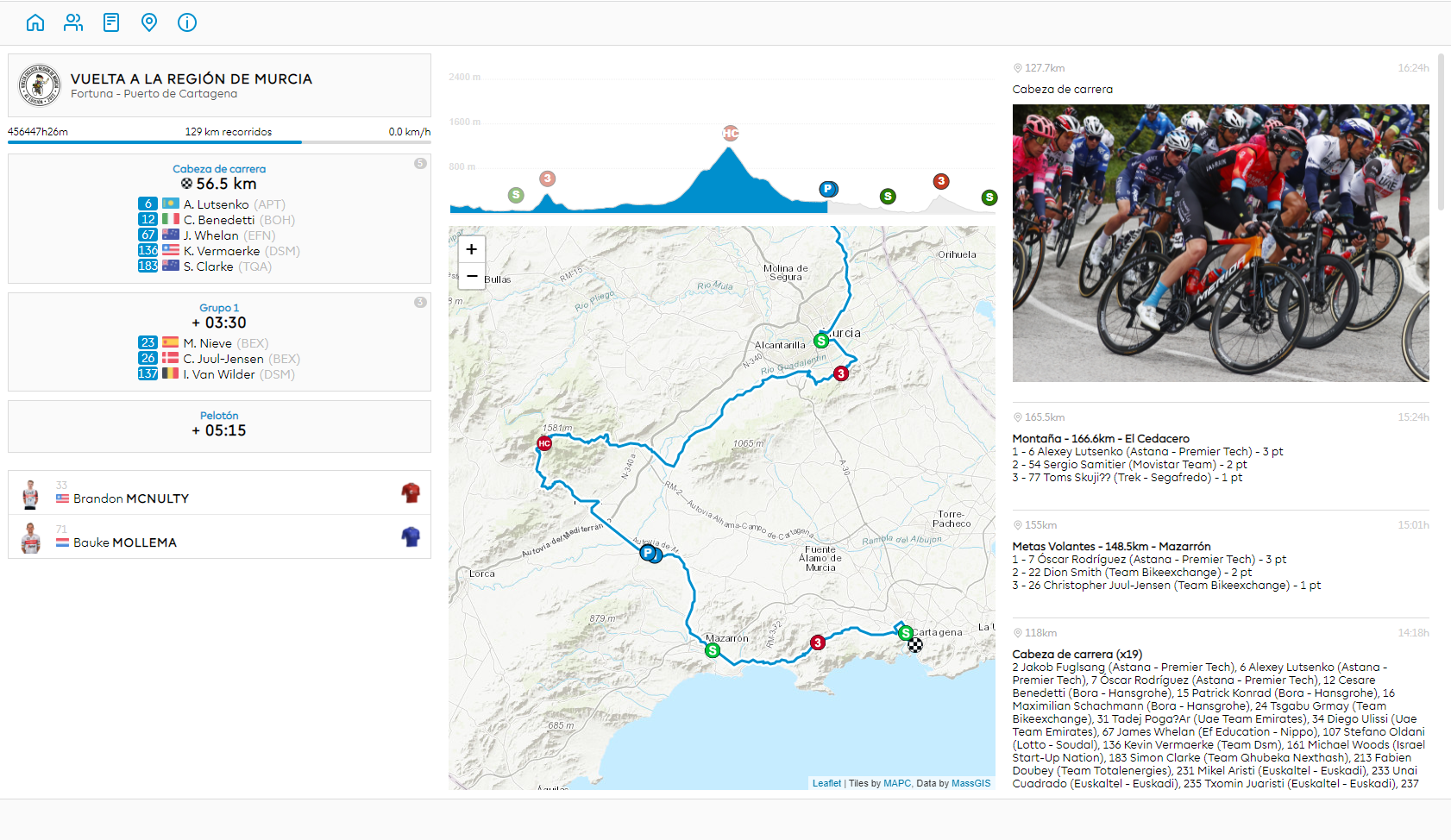 The organization of the Vuelta Ciclista a la Región de Murcia will count in this edition with LIVE TRACKER, a platform developed by the Spanish company Helmuga.cloud, and completely focused on the organization and monitoring of cycling races.
With this immersive experience for the fans, the Vuelta a la Región de Murcia provides an advanced and attractive coverage of the race until the official broadcasting starts on Eurosport. In addition, when the two-hour television signal starts, the platform will be an ideal complement to understand the race in a simple and complete way.
It is available in english and spanish, it provides the users with a lot of information. The main screen will allow the position of the groups in real time, their composition, and automatic calculation of the virtual leaders of each classification.
The elapsed race time, the kilometres covered and the average speed of the Race Leader are complemented by an extremely comprehensive live written broadcasting system.
It allows real-time results, social media posts, potos, videos and audio, which illustrate the race situation.
LIVE TRACKER will also be an excellent tool for Race Direction. In this way, we will be able to control the size of the race bubble, and it will offer precise information for the technical jury, the federative delegates and the members of the organisation.
These are advantages that we will take advantage pf in this 42nd edition, and will mean a qualitative and quantitative increase in the race tracking, and in the security of it.
Helmuga.cloud was born in 2007 with the creation of videosdeciclismo.net, a database to store cycling video files. It quickly gained relevance in various cycling forums and this experience led to the creation of CyclingCloud, a technology platform to offer cycling content on demand.
In 2016 it started working on tracking services applied to cycling, and it grew until it became responsible for the coverage of the 2017 World Championships in Bergen.
Currently Helmuga.cloud has an important international expansion with distributors in 24 countries in Europe and America.