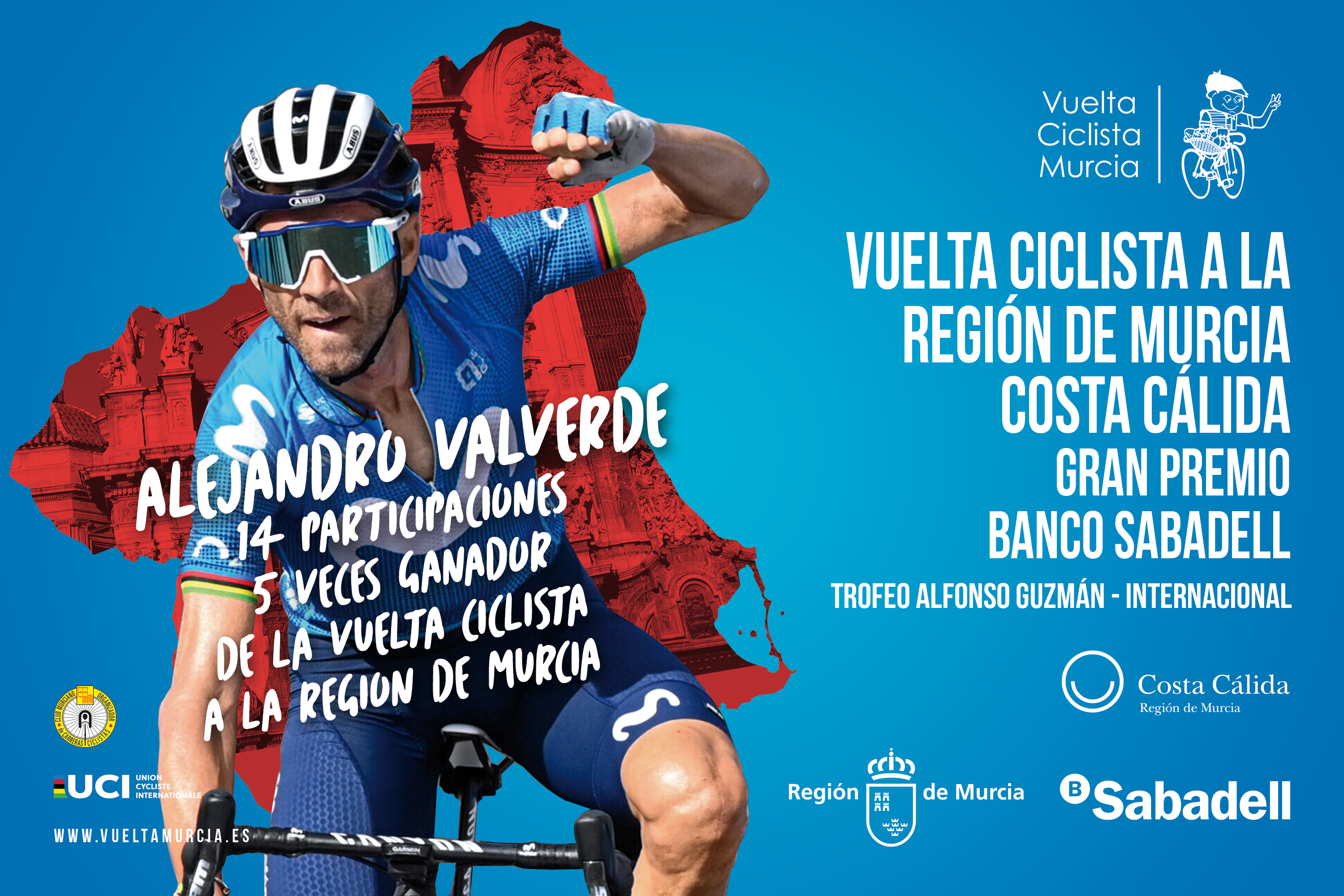 It will be his 14th participation in his home race, in which he has a legendary track record.
Alejandro Valverde has confirmed his presence in the 42nd edition of the Vuelta Ciclista a la Región de Murcia Costa Cálida Gran Premio Sabadell. This edition will mark his last participation in his home race.
In this way, he will say goodbye to the Región de Murcia as a professional cyclist, and will extend his streak of participations to 7 consecutive years. In total, he will have been present in 14 editions since his debut as a
professional rider in 2002.

The rider from Las Lumbreras has always maintained a very special relationship of success with his homeland. In 2003, a year after his debut, he already signed his first Top-3 in a stage, which finished in La Cresta del Gallo.
With his first podium in La Vuelta and his first UCI World Championship medal in his pocket, Valverde was already the favourite to the final victory. After a dramatic duel in Collado Bermejo with Danilo di Luca, Cadel Evans and José
Iván Gutiérrez, Valverde took his first victory in the general classification.
His first partial victory came in his next participation. It was in the second stage of 2006, between Alcantarilla and Alhama de Murcia, where he was the best of a 9 riders group.

In 2007 and 2008 he managed to return to the top of the podium, with two stage victories in the time trial in La Santa. The last one was in a fierce duel between two of the most important Spanish cyclists of this century.

Alberto Contador and 'El Bala' faced each other in the 23.3 kilometre time trial. The home rider won, and 'El Pistolero' could only finish third.
2013 marked his return to the race. By that year, it was already a one-day race, finishing at el Castillo de Lorca. An ideal finish for his characteristics. He returned to the podium in third position, after being surprised by Dani Navarro and Bauke Mollema.
A year later, he returned to the top step. His fourth victory came after an intense duel with Tiago Machado. Valverde became the fist rider to win the race in both formats: one day race and stages race. Something that only Luis León
Sánchez, his great rival between 2018 and 2020, has been able to replicate.

Of all the unforgettable moments that Alejandro has left in the Vuelta Ciclista a la Región de Murcia, the 2017 edition stands out. Knowing how complicated his chances were on a route that didn't include La Cresta del Gallo, he launched his
attack on the climb to Collado Bermejo-Cima Marco Pantani.

He gave no option to his pursuers in the remaining 70 kilometres, and entered on the Gran Vía de Murcia alone and triumphant, more than two minutes ahead of the riders who closed the podium: Jonathan Restrepo and Patrick Konrad. This is his 5th and last victory to date.
In 2018 and 2019, Luis León Sánchez beat him. The breakaway that allowed Xandro Meurisse to take the victory in 2020 took him out of the fight, and in 2021 he didn't finish the race for the first time. The bad weather in the Region de Murcia made him abandon when the race passed through Aledo.
Thanks to his exhibition in 2017, Valverde has won every single classification of the race: General (x5), Metas Volantes (x1), King of the Mountain (x1) and Combinada (x2). Also, he is the only rider that has been capable of crowning first the Collado Bermejo-Cima Marco Pantani since it was given that name.

'El Bala' is once again one of the great favourites, and in 2022 he will contest for his sixth victory in the Vuelta Ciclista a la Región de Murcia Costa Cálida Gran Premio Banco Sabadell. He has achieved it on the previously mentioned occasions: 2004, 2007, 2008, 2014 and 2017.